RBD Palmolien oil ›
Introduction :
RBD Palmolein is obtained from fractionating refined palm oil to separate liquid parts (olein) from solid parts (stearin). One hectare of oil palm yields approximately 20 FFBs, which when crushed yields 6 tons of oil (including the kernel oil, which is used both for edible and industrial purposes).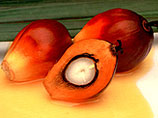 Crude Palm Oil (CPO), Crude Palmolein, RBD (refined, bleached, deodorized) Palm Oil, RBD Palmolein and Crude Palm Kernel Oil (CPKO) are the various edible forms of Palm Oil traded in the market. While Oil is the stable derivative (saturated fat, solid at room temperature) of fresh fruit crushed, Olein is relatively unstable (unsaturated fat, liquid at room temperature, but low cholesterol).
RBD Palmolein is used as cooking oil as well as frying oil for food industries such as snack food and ready-to-eat food. It is also used as a raw material for margarine and shortening. It is used in soap, candles and oleochemical industries.
The Kuala Lumpur-based Malaysian Derivatives Exchange (MDEX) could be considered as the 'PRICE MAKER' of oilseed and edible oils traded Worldwide. This Futures Exchange trades only in CPO. It is one of the most vibrant futures Exchange, which factors in all the fundamental and technical factors influencing oilseed complex globally.
The Chicago Board of Trade (CBOT where Soya Oil is traded) and the MDEX are closely interlinked in terms of price movement. The unit of CPO traded at MDEX is expressed in terms of Malaysian Ringgit per ton. For instance, the futures price (October '03 contract) on 16th July 2003 was 1419 Ringgit/ton. Volatility' is at 'its highest' in case of Palm Oil.
Global Scenario :
Palmoil with an annual production of 45 million tons is most produced oil in the world. Indonesia (20.7 million tons) and Malaysia (18.5 million tons) are the major producers account for 87% of world production.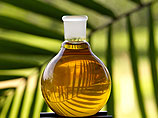 The other producing nations are Thailand, Nigeria and Columbia. Around 77% (35 million tons) of global production is exported. Malaysia and Indonesia with 15.7 and 15.6 million tons respectively are major exporters. India, China, Pakistan, the Middle-East Countries and EU are the major importers. Price Competitiveness has been reason for increased consumption of this oil.

With a share of over 54% (18 million tons), Palm Oil dominates the Global Vegetable Oil Export Trade. In India, Price competitiveness has been reason for increased consumption of this oil.
Indian Scenario :
India produces around 0.7 lakh tons of Palm Oil a year. Kerala is the largest palm producing state in India with 30% share in the total production figures of the country. Among the companies indulged in the production of Palm Oil, Godrej emerges as a leader with the same amount of production as Kerala. Indian palm oil consumption hovers around 6.55 million tons, which is a much bigger quantity as compared to the production figure. The country ranks first regarding its consumption level. The major demand of Palm Oil arises from the food and cooking oil industries.
India has imported roughly 8 million tons of palm oil and its variants in 2010-11.
Chennai, JNPT, Mumbai, Kandla, Kakinada are the major ports for Palm Oil entry to India and the major trading points too.
Palm oil imported into India is used in various forms- consumed directly as 'Palm Oil' after refining, used in the manufacture of Vanaspati, for blending with other vegetable oil, crude oil and kernel oil for industrial purposes, etc.
It is imported mainly through the ports of Kandla, Kolkata, Mangalore, Mundra, Mumbai and Chennai.
Imported crude oil/olein is traded at the cities of the importing ports in the form of RBD palmolein and RBD Palm Oil (60-70% of Palm Oil is imported by organised players in the industry i.e. By large refiners/corporates who own brands).
Factors influencing RBD Palmolien Oil price :
Since 100% of the Palm Oil traded in the country is 'imported' from Malaysia and Indonesia, the prices are mainly depends on the futures prices of CPO at MDEX.
Weather and Rainfall in Malaysia & Indonesia also plays a vital role in determining the Prices of RBD Palmolien Oil and similarly Crop estimation and Crop Production at Malaysia and Indonesia plays a major role as well.
Price of its substitute oil (Refined Soya Oil) also affects the prices of RBD Palmolien Oil.
Govt Policies regarding tarriff duties also affects the prices to the great extent.
Latest News & Events
Loading News & Events …
Contact Us
Ajay Oils
76, Commercial Chambers,
Danapith, Satta Bazar,
Rajkot-360001
(Gujarat) India.
Tel: +91-(281) 2238240, 2238115
Tel: +91-(281) 2220472, 2238121
Fax:+91-(281) 2238159

info@ajayoils.com